How to Schedule Rent Payments
How to schedule upcoming Rent Payments for automatic payments.
After adding your online banking, the Rent Payment feature through RentSpree allows for you as the renter to set up a payment schedule for automatic payments to be taken out when your rent is due. This gives you the flexibility to know that your payments are set up and ready to be paid on time each month.
Setting up Automatic Payments
After logging into your RentSpree account you will need to navigate to the Rent Payment menu within the left-hand side menu.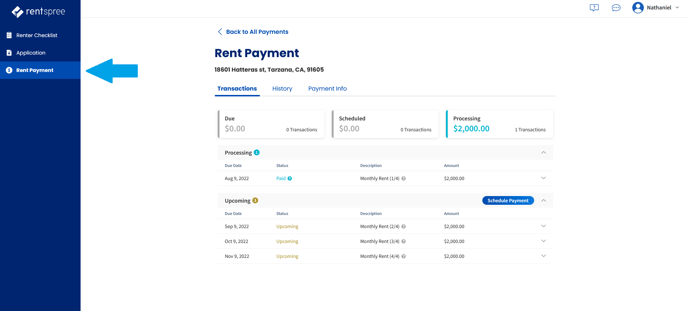 Select the Property Address to schedule payments for
Select "Schedule Payments"
Use the drop-down to select the last payment you want to schedule
Select the type of account you want to use for the property
Choose the account or add a new account
Check over the Payment Details
Use the checkbox to authorize the information
Select "Confirm Schedule"