What is it?
Previously, signing up for a RentSpree PRO subscription included Auto Reference Checks and Renter Document Upload to assist with verifying income and references.
We're now including more features to the subscription such as Posting Agent Reviews, Custom Agent Profile URLs, E-Sign Documents, and a Priority Support Line.
For more information about what's included in RentSpree PRO, see below:
Agent Reviews: Highlight customer reviews, showcase your experience, and market your listings to stand out from the competition.
Auto Reference Checks: Automate reference checks and round out an applicant's profile with information from their personal references.
Customized Agent Profile URL: Personalize your profile page with a customized URL and feature client reviews, expertise, and listings to further grow your business.
E-Sign Documents: Easily send and sign rental documents anywhere, anytime, and with anyone.
Rental Document Upload: Request, collect, and securely store documents like bank statements and proof of identity from potential renters.
Priority Support Phone Line: Skip the line and work without limits with RentSpree's dedicated support team only a phone call away.
Why does it matter?
Agents, owners, landlords, managers, and other property representatives that use RentSpree can subscribe for even more features to enhance their rental journey.
Customizing the Agent Profile URL creates an easy website to remember for clients to view your active listings. While posting Agent Reviews on your profile builds a positive rapport with applicants who are inquiring about working with you for their next rental.
Moreover, Rental Document Upload and Auto Reference Checks assist with verifying income and information about each applicant after they submit their rental application through RentSpree.
Finally, once you pick an applicant to lease to, our E-Sign Document feature assists with getting all the necessary documentation signed, such as a lease agreement.
If any assistance is needed, take advantage of the Priority Support Phone Line that directly connects you to RentSpree's Customer Support team.
How does it work?
To sign up for RentSpree PRO, click here or see the instructions below:
1. From your dashboard, click on the RentSpree PRO tab on the left side.
2. You'll then be directed to the Subscription page; click on Start 30-Day Free Trial.
3. Next, you may choose if you would like to subscribe to a Monthly or Yearly payment plan.
4. After, enter your Payment Card information and click
Start 30-Day Free Trial
.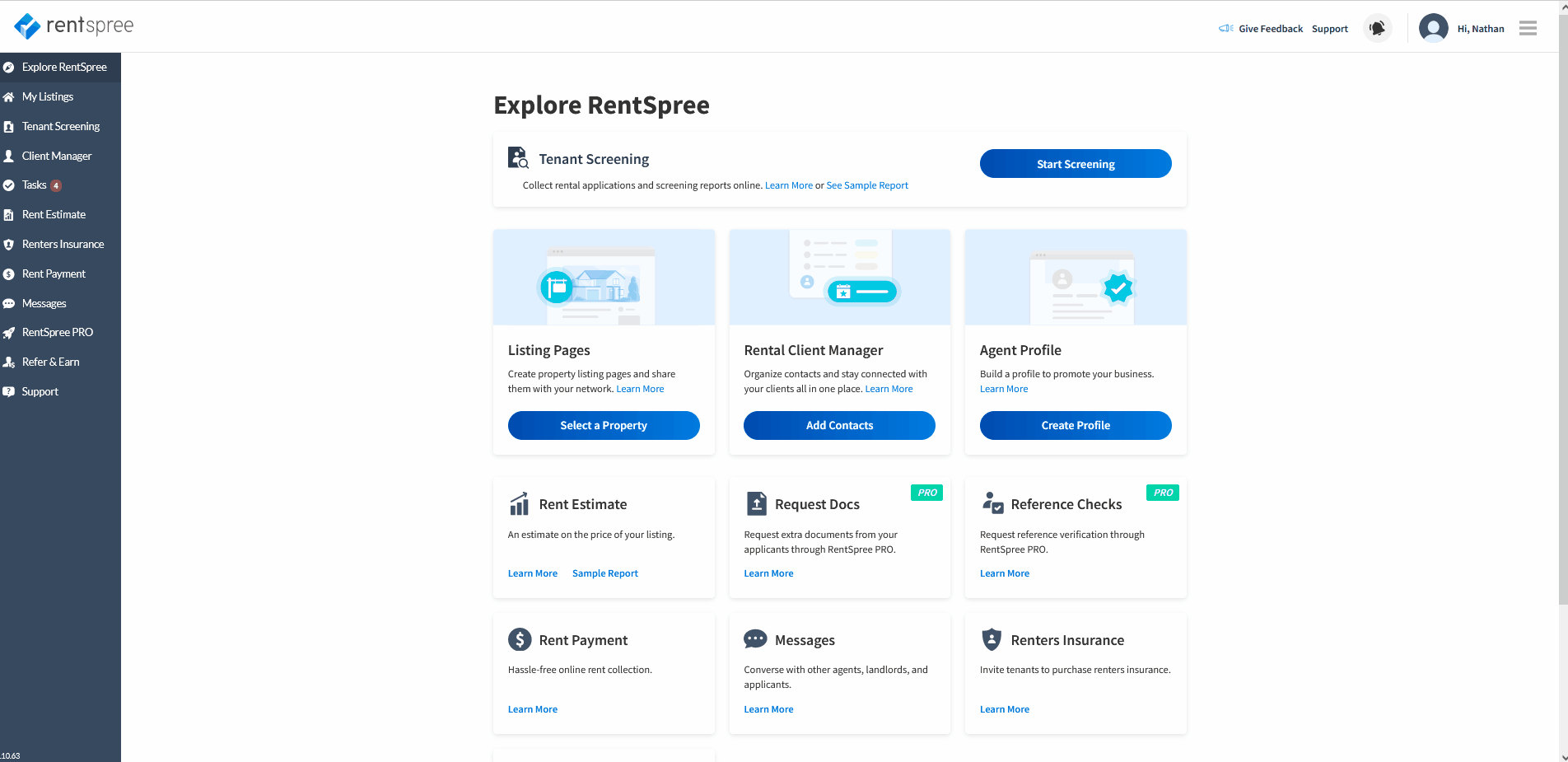 5. Finally, you'll see a confirmation pop-up that will notify you that you've successfully signed up for RentSpree PRO
Who gets it?
RentSpree PRO is available for all agents, owners, landlords, managers, and other property representatives that have a RentSpree account.