RentSpree works together with zipForm® Plus to provide tenant screening for zipLogix™ users.
For a tutorial video, click here.
Click here, if the property is already in your zipForm® plus account.
First, enter your login credentials and SIGN IN to your zipForm® Plus account.
Once you've signed in, you'll be brought to your dashboard. From there, make sure you're on the TRANSACTIONS tab (all of your transactions will be present).
We will now go over how to create a transaction.

New Transaction
Click on the NEW button.

Once you've clicked NEW, you will be given options on what type of transaction you'd like to create. Select either LEASE or LEASE-LISTING, then make sure to select a RESIDENTIALproperty type (as indicated in the screenshots below) and click SAVE.

Once you've saved your new transaction, you will be on the summary page of your transaction. From here, there are 4 main points of focus (see picture below for details):

Transaction name and ID.
Your name, email, transaction type, ID, and last modified date. It is important that the transaction type is either LEASE or LEASE-LISTING and RESIDENTIAL.
Your Property Summary. This is where you enter any of the property information you'd like to gather applications and screening reports from. Make sure that the address being entered appears in the zipForm® Plus drop-down menu.
zipAlliance® menu. Here is where you can access different tools to help you. The one we want to focus on and select is MARKETING & PRODUCTIVITY.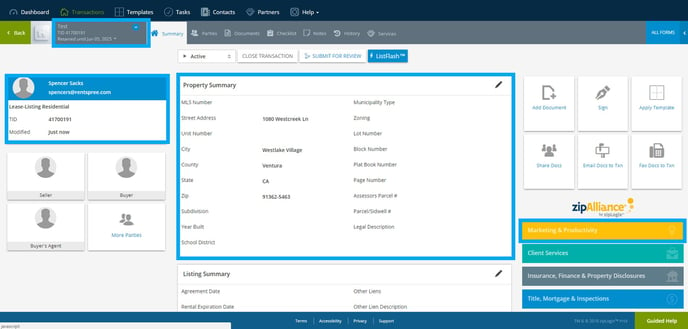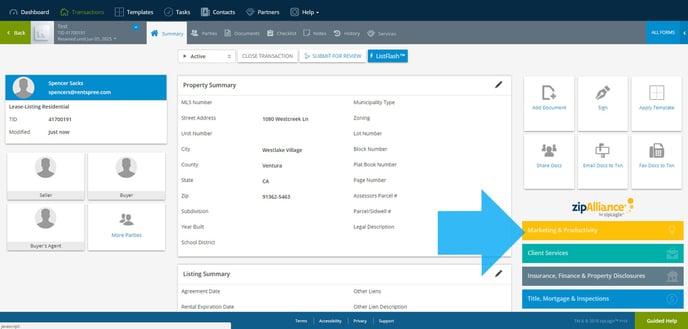 Once you've selected "Marketing & Productivity," you will see a pop-up with three options. RentSpree, located in the middle, is the option you want to go with. Click on SEND TO and you will notice one more pop-up. From here, please proceed to Launching RentSpree.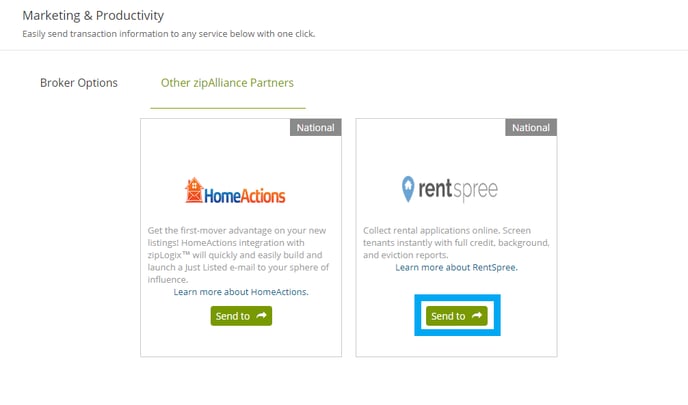 5. Once you Get Started, you will now be on the path to screening new applicants.