How to send an email/text request to an applicant
A step-by-step guide on sending a request to applicants using their email address or phone number.
How to screen with an email address/phone number
While we have 3 different screening methods, the most common is using the applicant's email address or phone number. This method allows you to send a request directly to an applicant, which is helpful if you want to avoid an open-ended link that anyone can click on and apply through.
Screening with email/text
Access your dashboard.
From your dashboard, click the My Listings button on the left, blue menu bar on your dashboard

If this is your first time adding a property, click here.

Once you've located the property, click on ⋮ and then Screen new tenants.

Once you select to screen new tenants, you will be asked to select the screening items and who will be paying for the application fee (you know the item is selected as indicated by the blue checkmark next to each item).
6. After selecting the screening items, click NEXT.
7. You will notice a box that says "Enter renters' emails/mobile numbers separated by a comma." You can enter the email address(es) or mobile phone number(s) of any potential applicants here and then click Send Request(s).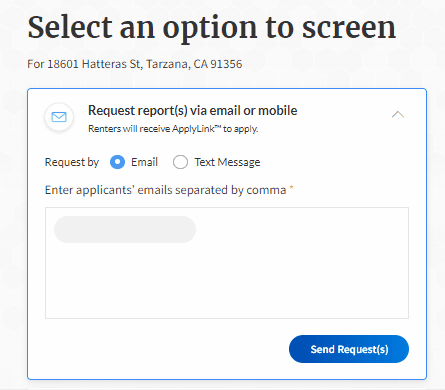 You are all set! Your potential tenants should receive an email/text from RentSpree with the subject "Apply now for" and include the property address you entered. You will then receive an email notification once they finish submitting!
To screen using a ApplyLink™, click here.
To screen using a Screening Handout™, click here.