The following article will describe what a Rent Estimate Report is and explain the benefits of acquiring one from RentSpree.
When attempting to lease out your property, there are a lot of factors to consider when determining the rental price. Here at RentSpree, we can help with that by providing a Rent Estimate report from RentRange® for only $19.99. With the Rent Estimate report, you will get:
A rent estimate for your property along with a confidence score for that estimate and vacancy rate
Rent benchmarks in your area
County vacancy vs. days on market data
Rental saturation benchmarks
Comparable rentals in your area including a map of properties
County rent trends by bedroom and type
Area Gross Yield and rental trend data
RentRange® uses an advanced rental valuation model that applies predictive analytics on high-quality public and proprietary data sources to estimate the current rental value of a residential property with best-in-class accuracy. RentRange Rental AVM is driven by our nationwide property database with over 98 Million single and multi-family residential properties.
With 10 years of experience in rental AVMs, RentRange's® Ph.D.-led team of data scientists has a deep
understanding of the underlying data and market factors to provide a highly reliable valuation model.
You can view a sample Rent Estimate Report by clicking here! You can also view a screenshot of the first page of the report along with definitions of terminology used below: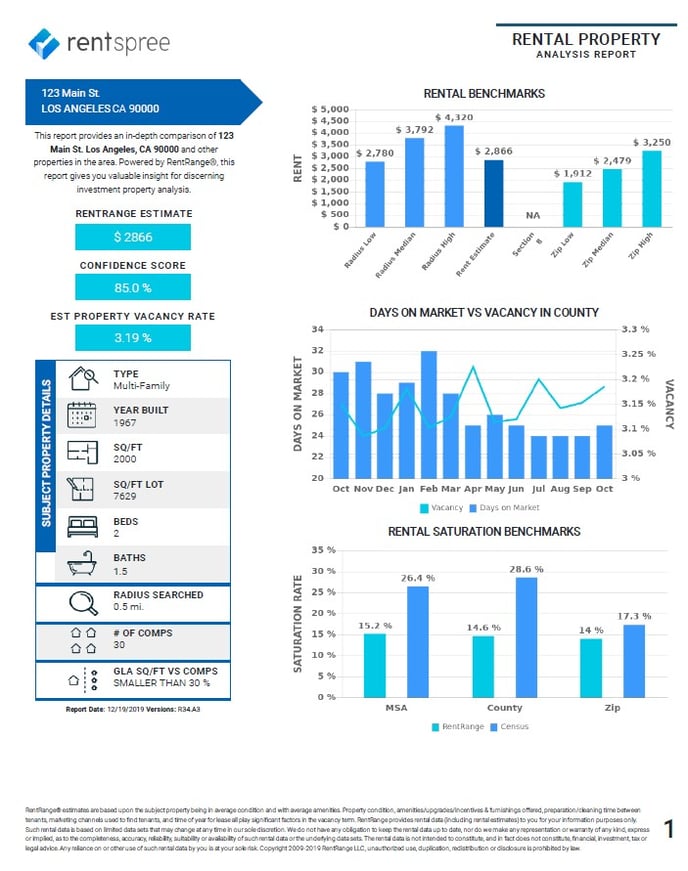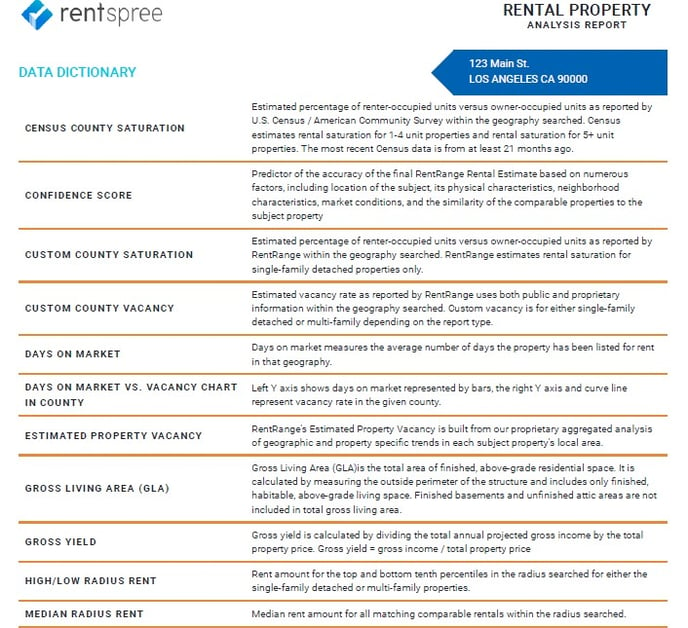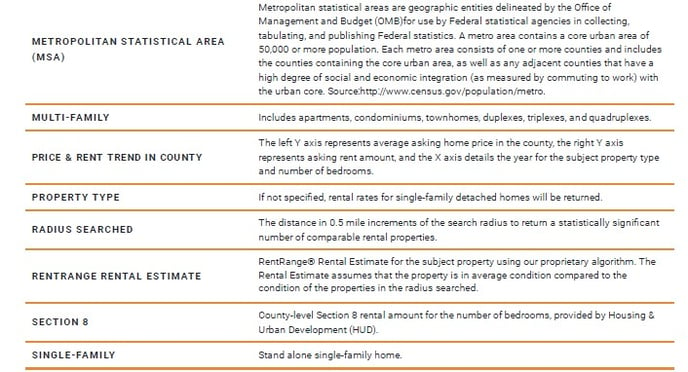 Benefits of using RentRange for the Rent Estimate Report
RentRange® is a premier provider of information in the single-family rental sector, delivering address and market-level rental data, analytics, and rent-based valuation solutions for a diverse customer base.
Whether you're a real estate investor, appraiser, real estate agent, property manager, or lender, RentRange has the data you need to make decisions with confidence. Whether you own, manage, or are thinking of buying a rental property, a RentRange Property Report will help you to:
Determine the rent rate potential for any property.
Supplement traditional Automated Valuation Models (AVMs), Broker Price Opinions (BPOs), and appraisals.
Provide key information about localized vacancy rates, recent and historical county rent trends, and other vital investor metrics to help provide a deeper understanding of the market.