Agents have the option to set up Tenant Applications & TransUnion Screening reports through RentSpree during the process of adding a new listing. Here are the steps to take to activate tenant screening when adding a new listing on Rentals.com
If you are not using Rentals.com & just have a RentSpree Account, Click Here to learn how to send Report Requests
On the top left side, click on Add Listing.


Enter the required information for your property and then click on the Select Listing Type button at the bottom of the page.


Select your listing type and click on Next.




Confirm/edit the order or enter a coupon code (if applicable). Once you are satisfied with the order, click on Continue.




Agree to the terms and click on Submit to finalize the order.




After submitting the order, you can click on Finish Now to initiate the RentSpree Tenant Application and TransUnion Screening.


Click on the Get Started button to initiate the Single Sign-On process with RentSpree.




You will then be asked to review the TransUnion Agreement. Once done, check off the box that states "I accept the Service Agreement" and then click Continue.

You will then be asked to enter YOUR mailing address. This is not the address of the applicant and is required in order to access reports from TransUnion. Once you have entered the required information you can click on Continue.


You will then be asked to select your listing to enable TransUnion tenant screening. Once you have selected your property, click on Next.

If you would like to add a property that is not listed on Rentals.com, you can click on the Add New Property tab.






You will now be asked to confirm which reports you would like. You can include an online rental application at no cost and for $38, you can also include a complete credit report, criminal background check, and nationwide eviction related proceedings all by TransUnion. You can also choose to pay this yourself or if you want the applicant to pay us directly. Once you have made your decision, click on Finish.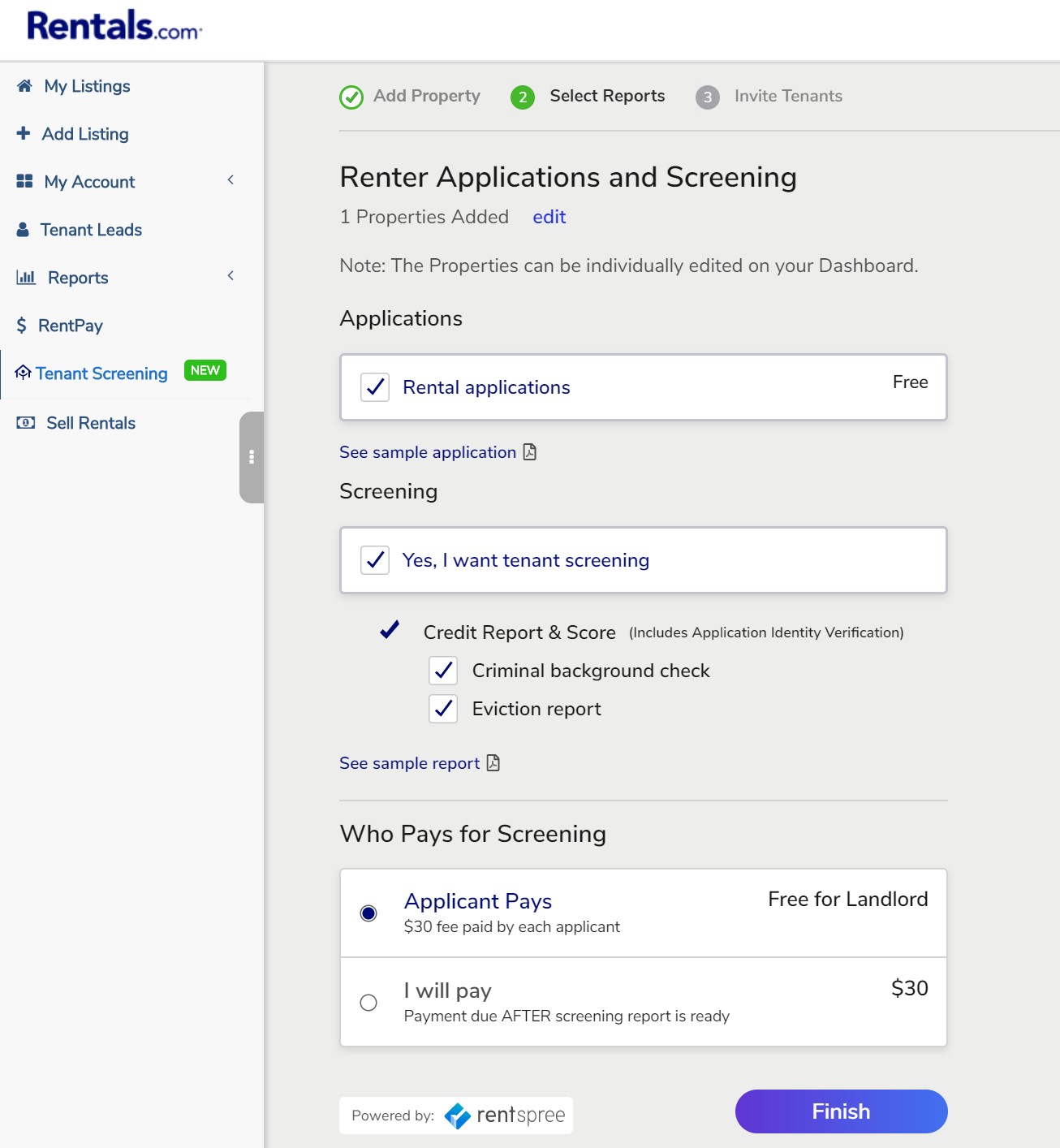 That's it! You've now initiated the tenant screening on your Rentals.com listing. There will be an Apply Now button that appears under the contact box of your listing (shown below) and we will notify you once someone has completed the application and screening process.