RentSpree works together with BrightMLS to provide TransUnion screening options for listings
Tenant Screening is available on BrightMLS, through RentSpree. When adding a new listing to Bright MLS, You can activate or deactivate tenant screening through the lease details.
Adding Tenant Screening to New Listing with BrightMLS
First Enter log-in credentials for BrightMLS.
Once you are ready to add a new listing to BrightMLS. You'll get to the screen that says, What Type of property is it? From here you can click on the Residential Lease.
Below this, you will get a pop up that says RentSpree online application Y/N. Choose Yes to begin screening with RentSpree. This allows for an ApplyLink™ to be added to the property address on BrightMLS.

Lease Details
When Navigating to the Lease Details, you can also select to use RentSpree Online Application.


You will see a pop up that says, Allow Tenants to apply online and perform tenant screening. With RentSpree, you can request online applications and review online tenant screening info at no cost to you. Learn more about RentSpree here.

You will also see the ApplyLink™ URL that is added to your listing on BrightMLS.


After adding the ApplyLink™ URL to your listing you will see the ApplyLink™ URL listed under the lease information section on your listing with BrightMLS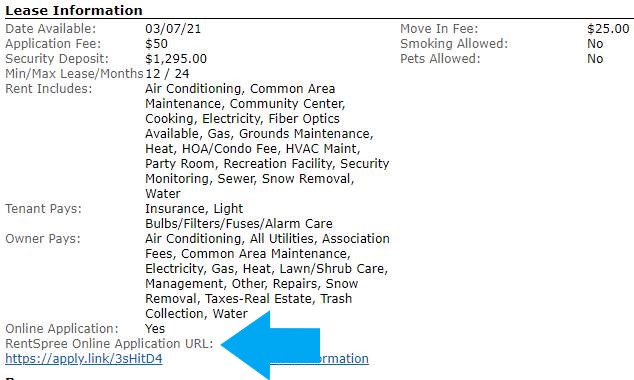 Refresh Button
The Refresh Button allows for the ApplyLink™ URL to be updated if it does not appear after selecting Yes to using RentSpree Online Application.
You will receive a pop-up when clicking on the Refresh Button.

You are about to generate an online application URL from RentSpree for this listing.
Do you want to continue?
Removing Tenant Screening from Listing
To Remove Tenant Screening from listing from the Lease Details, You will need to select No under RentSpree Online Application.



After selecting

No

you will receive a warning pop-up message about removing RentSpree from your listing.

This message will say, You are about to remove the online application URL from this listing. Note, you will need to log into RentSpree portal (https://brightmls.rentspree.com/) to fully deactivate the URL.

Do you want to continue

This will remove the

ApplyLink™ from the BrightMLS listing. But to remove the listing completely you will need to deactivate the property in your BrightMLS RentSpree account.