How to add contacts to the client manager
How to add contacts manually or through the applicant's rental application to the client manager.
How to Add a Contact
You can add a contact directly through the Client Manager tab within RentSpree. Once you are on the client manager page, you can select the Add Contact button to start adding information for the contact. The information that you can add for the applicant is listed below:
First Name
Middle Name
Last Name
Mobile
Did this person provide an address?
Role
Add Tags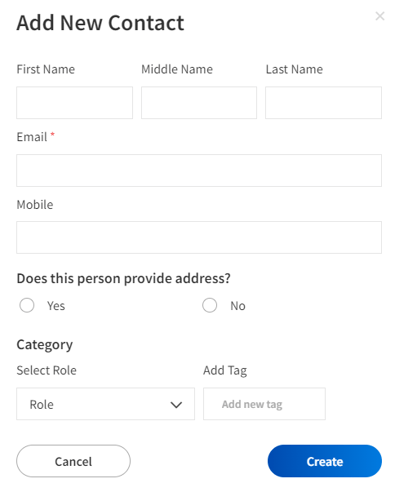 Once the contact has been added, you can add even more details about the contact. This will include all items listed below:
Birthday
Source
First Contact
Latest Contact
Monthly Income
Work Status
Move-in
Address

Includes City, State, Zip Code

Company Name
Address

Includes City, State, Zip Code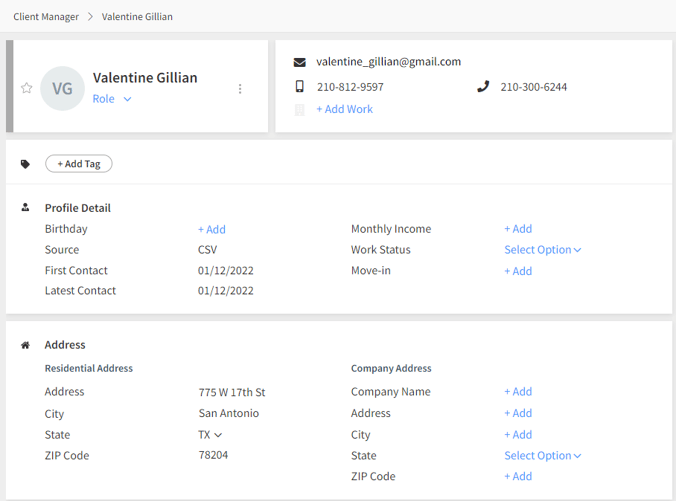 How to add a contact from a Rental Application
You can add applicants' information directly from their rental application. When an applicant applies the information will be automatically added to your contacts area. You can turn this off by following this article HERE. At the top right corner of the application, you can use the drop-down to select from two options:
View/Edit Contact

Allows you to edit the applicants information (see picture above)

Don't Save This Person


Removes them from your contacts list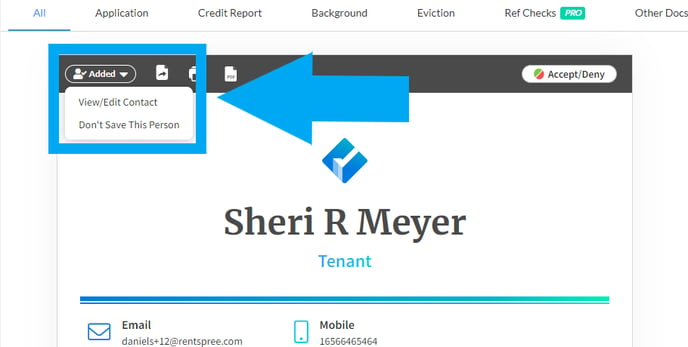 If you have removed the contact from your contacts list, or have the setting to automatically add contacts after the report is submitted successfully, you will have the option to add a contact.