Here you will find information on RentSpree's Listing Page feature and how to best utilize it for your rental listings.
RentSpree cares about the quality of listings on our site, as well as the safety of tenants. For these reasons, we require verifying agent or landlord accounts before publishing a listing. If your account is not verified, you will be asked to validate through Experian during the listing creation process.
With a Listing Page on RentSpree, agents, landlords, and property managers can create a public listing page for their rental properties. Easily sharable and optimized for searching, Listing Pages bring you one step closer to your prospective clients and increase your efficiency by providing the ability to screen tenants directly from the listing.
Click here to see a sample of a public listing page once created.
How to Create a Listing Page
Once on the RentSpree Dashboard, select a listing that's been added to your RentSpree account

Click Here to see how to add your listing to your RentSpree account

Once a listing has been selected, click + Create Listing Page
After, you'll be asked to drag and drop each photo of your listing from a computer folder, or you may press the upload button to find the photos on your computer

Additionally, you have the option to add a video link to either Vimeo or YouTube to be included as well. Once everything is added, click Save & Next
Please note that the 1st photo that is uploaded will become the cover photo for your listing page; you may re-arrange the order after uploading all your photos. Also, there is a limit on file size and photo resolution for the photos you add. Please confirm each photo's file size and photo resolution before adding it to your listing



You'll then be directed to the Leasing Information page. This is where you will enter your lease terms, such as date available, lease terms, and rent and deposit amounts (Our Rent Estimate report is also available to find the best-estimated rent for your property if needed.)


Other information that you'll be asked to answer for your listing: Is renters insurance required, Is smoking allowed, and are pets allowed. After, press Save & Next


Next, you'll be able to list utilities or amenities that are included with the unit. After selecting, click Save & Next


You'll then be able to enter a listing description for your property. You can enter manually or Auto-Generate a listing description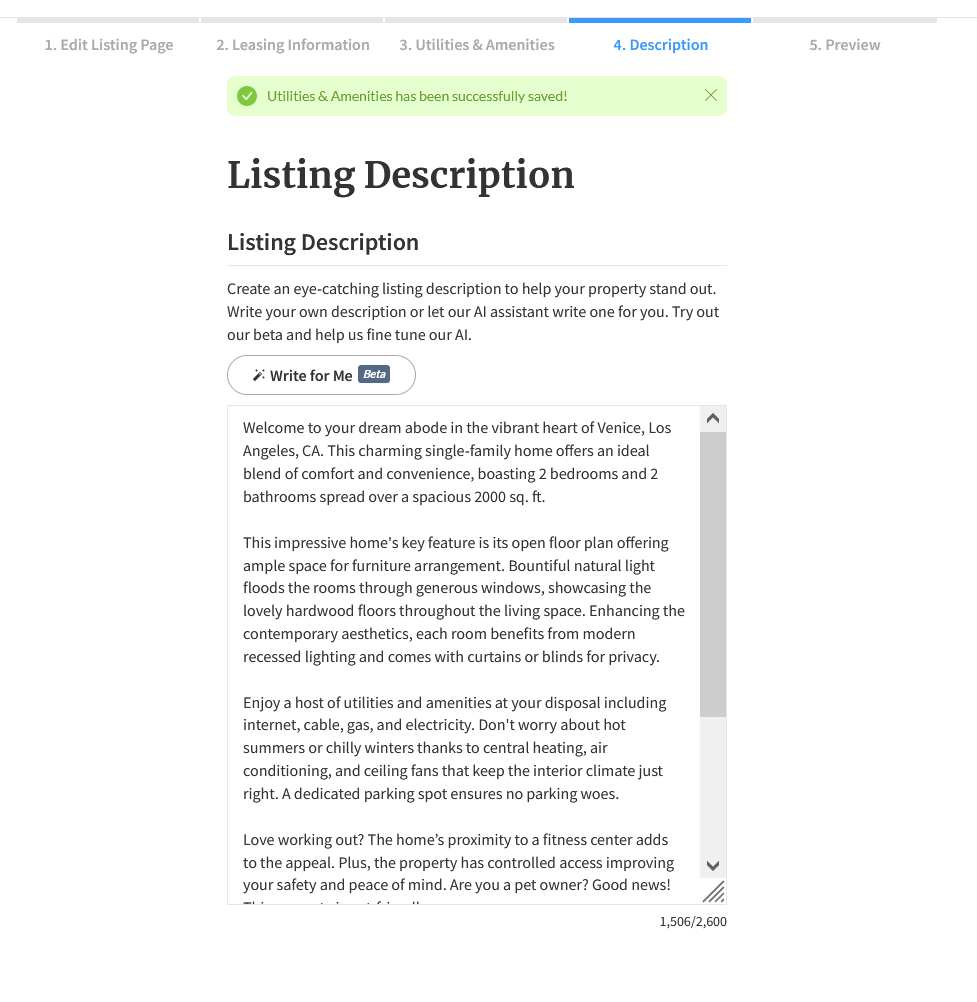 Lastly, you'll be able to preview your listing before you finalize and publish your listing





Once your listing is created, you'll be directed to the overview of your listing. You can edit/view the information you've inputted and copy the link to the public listing page to share with applicants and other agents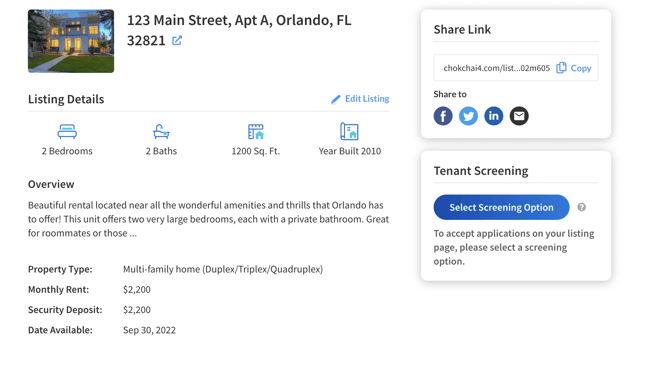 Tenant Screening from a Listing Page
RentSpree allows you to embed the tenant screening experience you know and love directly on your Listing Page. Tenant screening must be specifically enabled on your listing, even if you've already created a standalone ApplyLink for your property
Go to the property listing on your RentSpree Dashboard
Click Listing Management
Click Select Screening Option
Select screening options you would like to include
Once selected, you'll see that tenant screening is on for your listing. You can also turn off the screening when the listing is no longer available.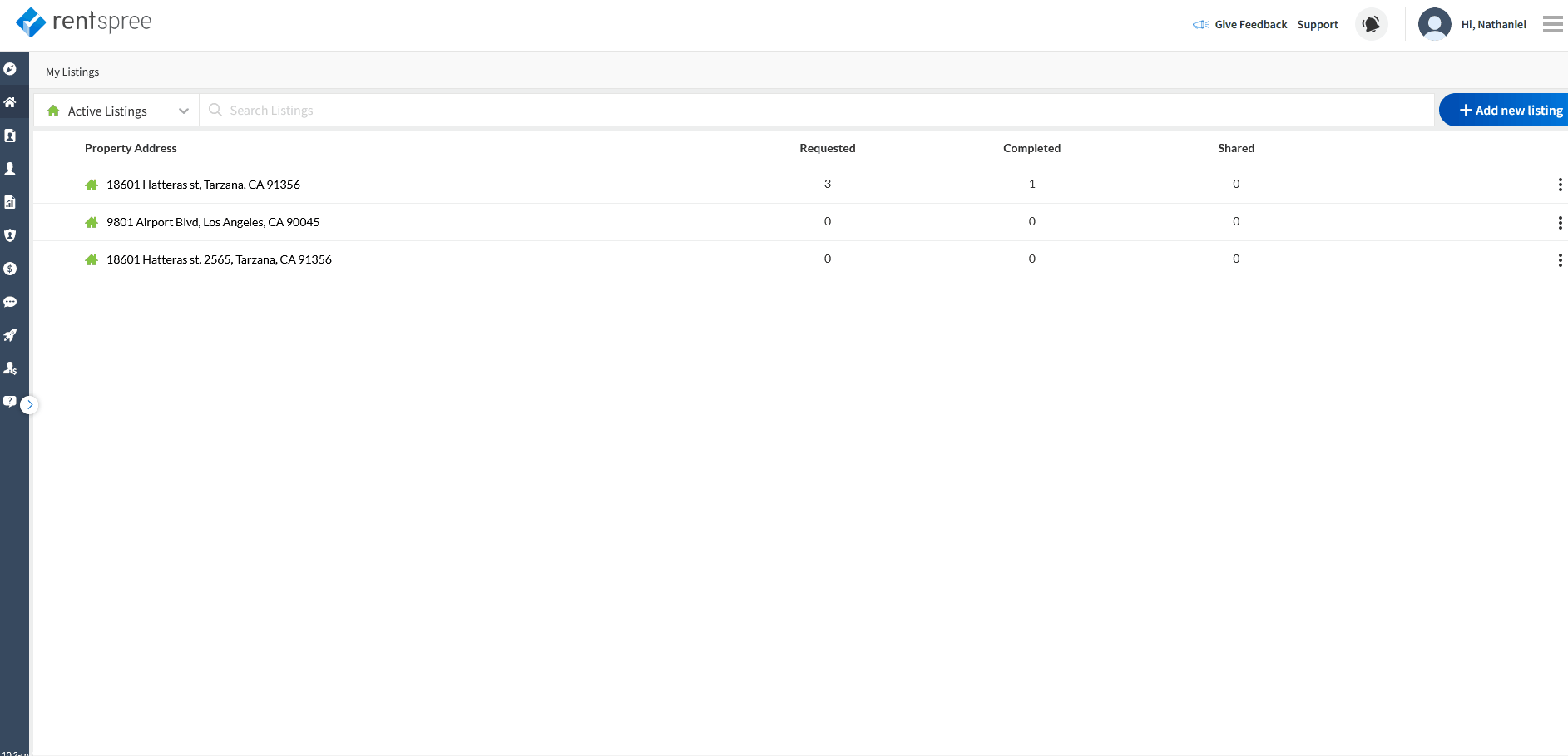 Scheduling Tours from a Listing Page
RentSpree provides an option for applicants to send tour requests to the agents who created the listing page. For instructions on how applicants can request tours, click here.
Once an applicant requests a tour, you'll receive an email with the requested dates. You may then click Reply Messages to send a reply message to schedule a tour with the applicant.