Partner Integrations - California Association of Realtors
Can I use the C.A.R. rental form with multiple properties?
Collecting the C.A.R. rental form when there are multiple properties someone is applying to.
One of the most popular features of RentSpree is that we allow users to apply to multiple properties by not including the property address on the application or reports. Since the addition of the C.A.R. rental form, we have had to tweak how this is handled. Since the C.A.R. form does require a property address, it is carried over when you convert the RentSpree application to the C.A.R. application.
Once you have received an application for the first property, you will need to add each additional property and send a request by following the steps below:
1. Connect your RentSpree and zipForm® Plus account. If you have not yet, you can view instructions on how to link your accounts here.
2. Once linked, you can log in to RentSpree and click on My Listings on the left-hand side menu
3. Select the Property address or Add New Listing
3. Enter the property address the applicant is interested in.
4. When asked to select the application/reports, make sure ONLY the rental application is selected (anything with a blue check mark will be included), as seen below. Since you have already collected reports, you do not need to request them again. Click Next to continue with providing their email address or phone number to us to get the request sent.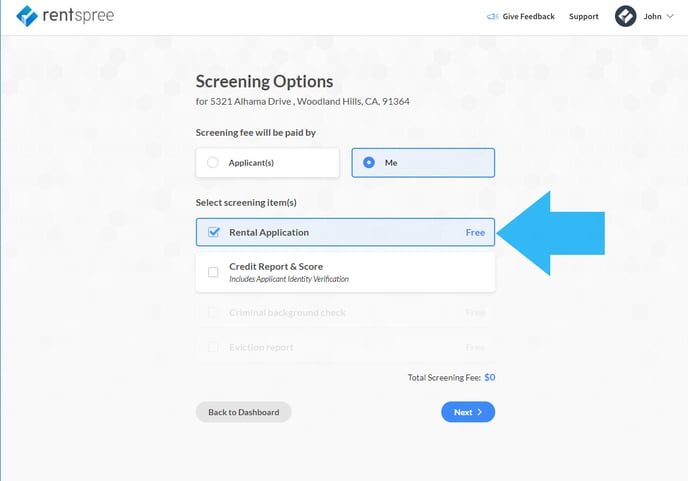 5. Provide the email address they used to apply to the first property. This will ensure that they do not have to fill out a complete rental application again. They will only be asked to review and re-submit the application to you.
6. Once you receive the application for that subsequent property, you can click on the "Export C.A.R. Rental App" button to convert that application to the C.A.R. form with the new address on it.
For additional properties, you can repeat steps 2-6 for each property!