How to Generate a CAR lease agreement through E-Sign Documents.
The E-Sign documents feature can now generate a C.A.R. lease agreement for applicants to electronically sign through RentSpree. This is done by linking your RentSpree account to your California Association of Realtors account. This can be done while using the E-Sign Documents feature.
C.A.R Lease Agreement with E-Sign Document
Once your C.A.R. account has been linked and validated with your RentSpree account, you can now start using E-Sign Documents to generate a C.A.R. lease agreement to send to your prospective renters. This document can be filled out directly through RentSpree. On this document, you can add multiple fields for electronic signature
Select the property from your Dashboard
Select +Request E-Signature
Select C.A.R. Lease Agreement
Validate C.A.R. Membership
Please input your last name, and NRDS ID for C.A.R. to validate your membership. This one-time process will grant you access to all features available for C.A.R. members such as C.A.R. form
Last Name
Brokerage Name
NRDS ID
After entering all information the system will validate this can take up to 30 seconds for the full validation process to finish
Add in Recipients

Tenant
Landlord
Guarantor
Other

Adding Standard Fields to E-Sign Document
The document can have standard fields that you can drag and drop onto the Document. These fields are listed below.
Text - Add a text field to the document

Text Fields will be automatically placed on the document for ease of use
Can change text size, bold, italic, underline.

Checkbox - Checkbox that needs to be checked for a recipient
Initial - Recipient can add initials for Electronic Signature
Signature - Electronic Signature for Recipient
Date Signed - Box for Date Signed by Recipient
If you need to delete a field use the options on the right of the screen under actions. Click on the trash can to delete fields.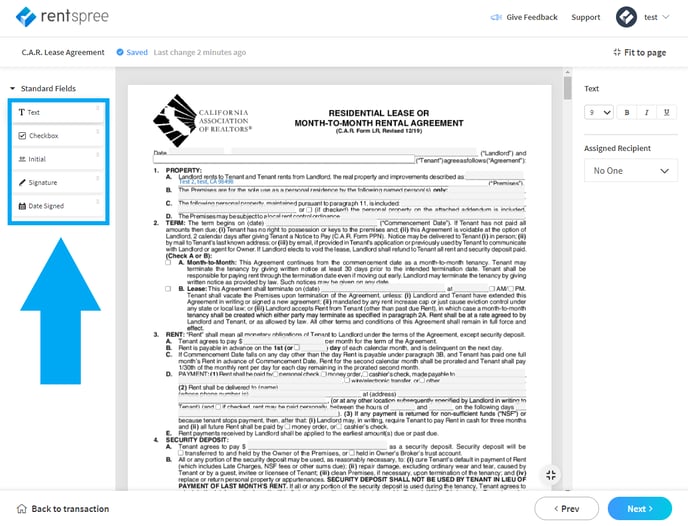 After you have added all fields to the C.A.R Lease Agreement that you need you can select the next button to move forward. You will then see the Recipients that you are sending to before clicking on Send. The Applicant will receive an email that takes them to the Document to Sign.